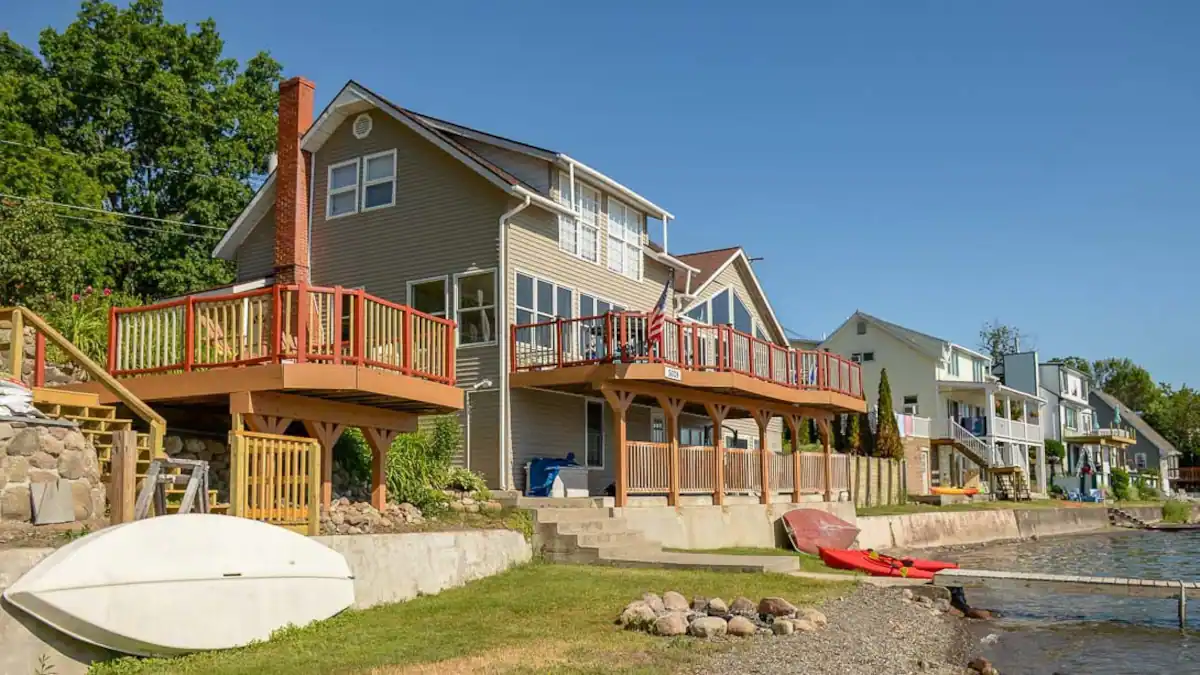 STEPS TO THE BEACH ON CONESUS LAKE
Beautiful Conesus Lake property that will be memorable and want to return. Relaxing at this 5-bedroom lake house offers idyllic serenity. Wake up to stunning water views, enjoy ample space for friends/family, indulge in water activities, unwind by the fireplace, and cherish unforgettable moments amidst nature's beauty.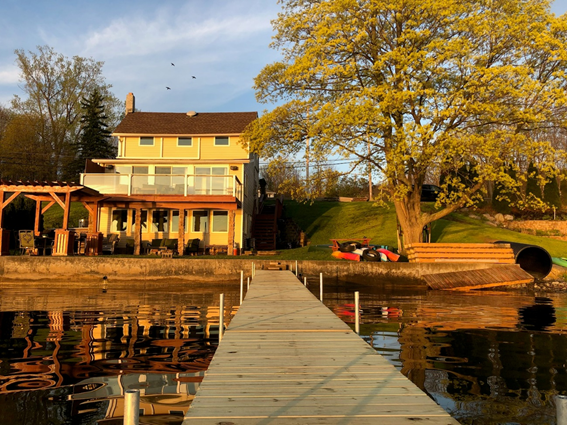 HAYES HIDEAWAY ON CONESUS LAKE
This beautiful three floor home overlooks the east side of Conesus lake! With five bedrooms, bunk beds and pull out sofas this home can accommodate up to 17! Conveniently located just miles from restaurants, wineries and other attractions this home is perfect for your next family retreat. Board games, lawn games, bar area with walkout to 200 ft of lake frontage and dock for an amazing vacation year round!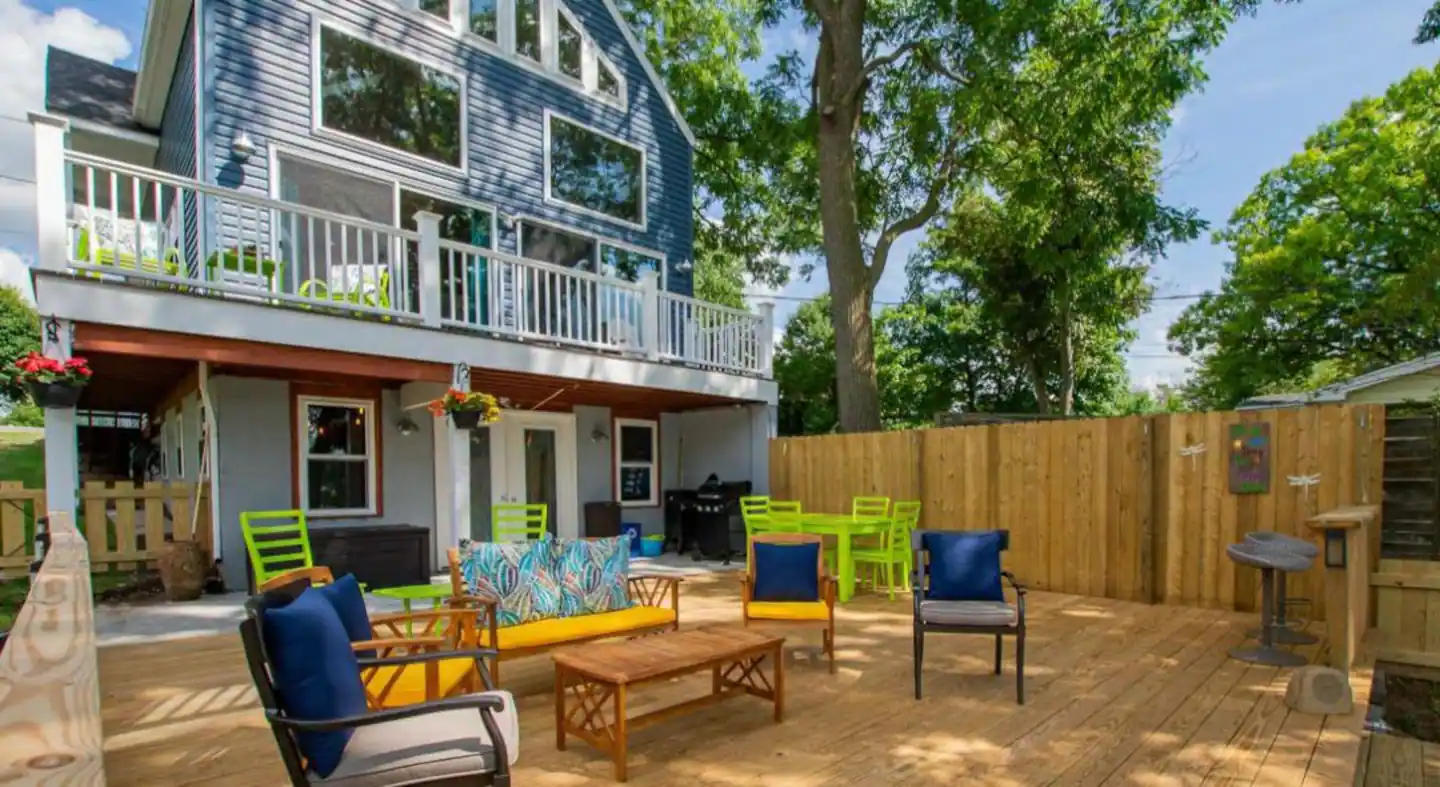 CONESUS LAKEVIEW OASIS WITH PONTOON BOAT RENTAL OPTIONS
Welcome to Lakeview Oasis! This cottage has 55 feet of lakefront, A-frame windows and a wrap around patio deck; providing a spectacular view of Conesus Lake! This home can accommodate up to 12 between the two private bedrooms on main floor, sleeper sofas and a spacious loft! With a beautiful walk out patio and large fenced in yard this is the perfect vacation spot for kids and pets! 24 ft pontoon boat rental option available during your stay! Experience the Finger Lakes at Lakeview Oasis!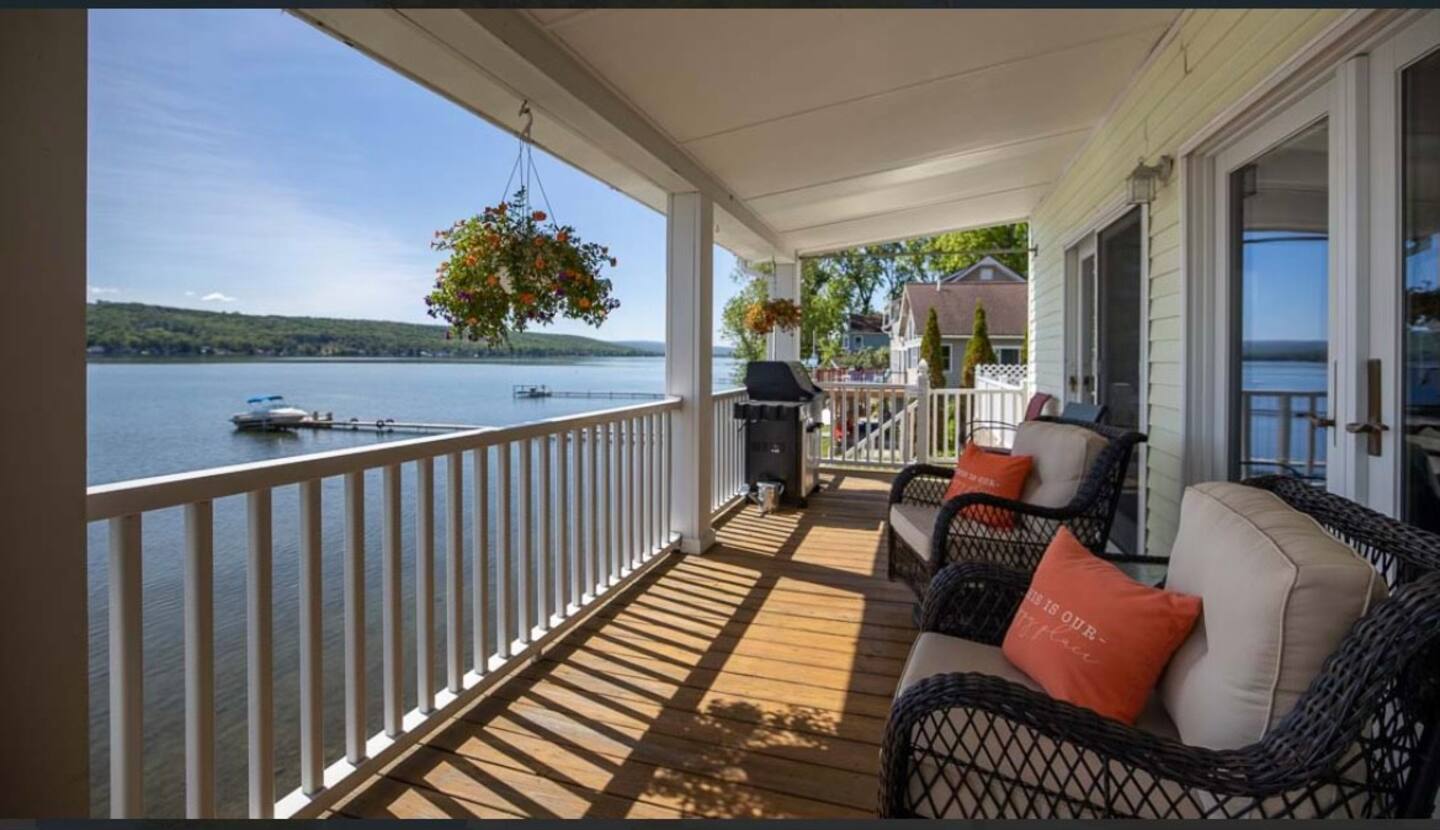 OUR HAPPY PLACE ON CONESUS LAKE
Located just minutes from downtown Geneseo and a short drive to the breathtaking Letchworth State Park, this charming 4-bedroom lakefront home is aptly named "Our Happy Place." Nestled on the shores of Conesus Lake, it offers idyllic sunrise views and serves as the perfect retreat for your family vacation.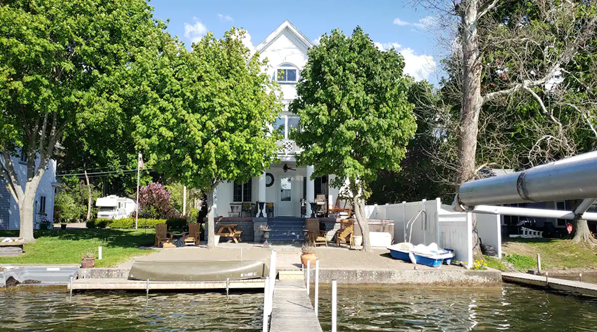 RELAX AND ENJOY COTTAGE ON CONESUS LAKE
Charming and southern feeling property on the shore of Conesus Lake! Beautiful balconies off two of the four bedrooms and large windows throughout the entire home help create the perfect vacation ambiance. Large family gathering area, hot tub, boat rental available and firewood included! Life is better by the lake!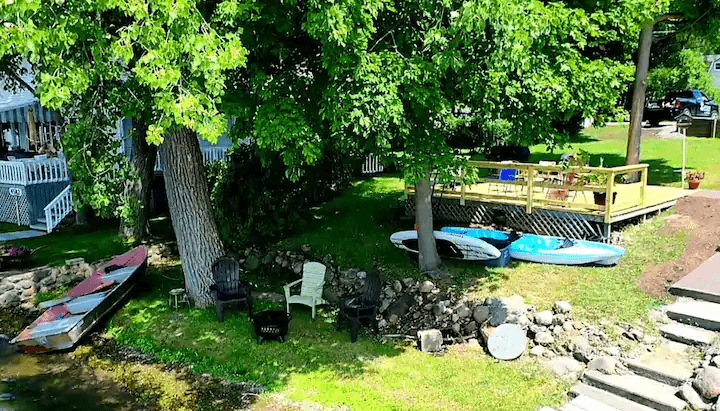 SIMPLY SERENITY OF CONESUS LAKE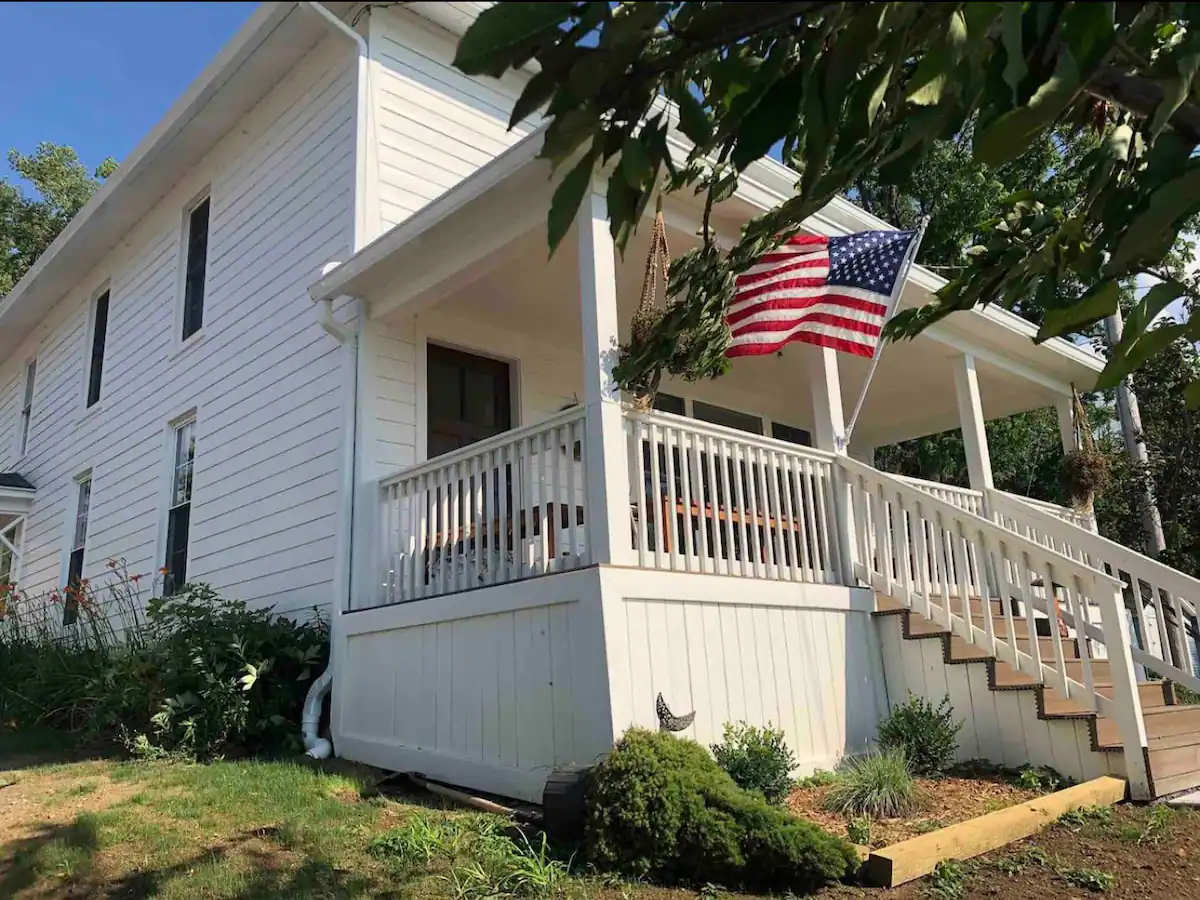 HODGE PODGE LAKE LODGE
Enjoy this perfectly imperfect lake house, with stunning sunsets every night! Located across the street from the lake, this charming 100+ year old farmhouse provides both coziness and character for your next vacation. Perfect for morning coffee on the front porch or walking up the hill for an extra special view of the lake!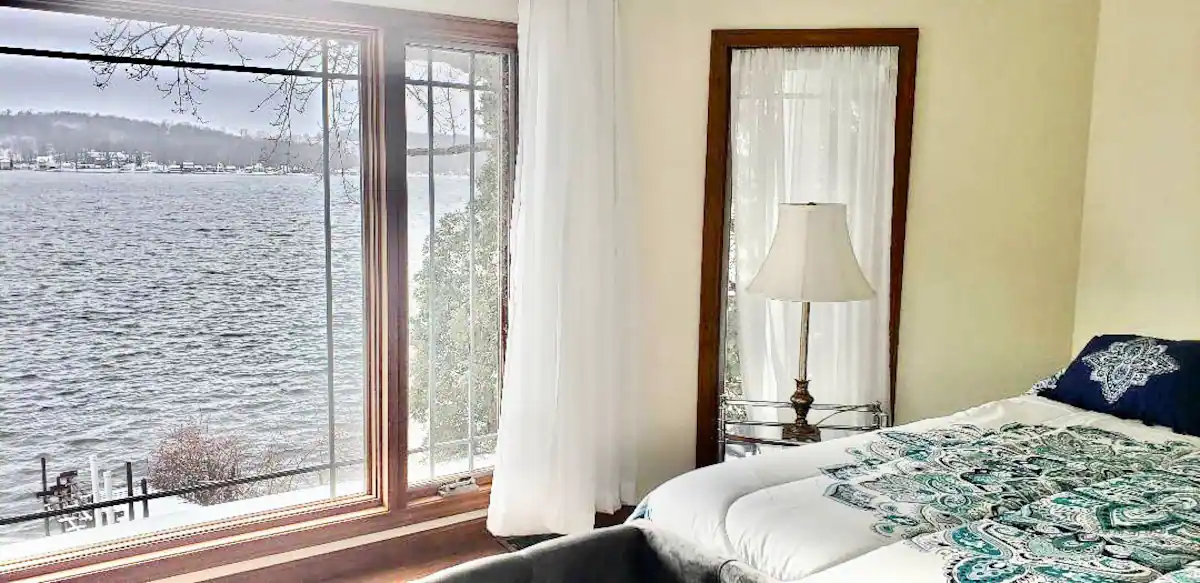 UPDATED BEAUTIFUL BOATHOUSE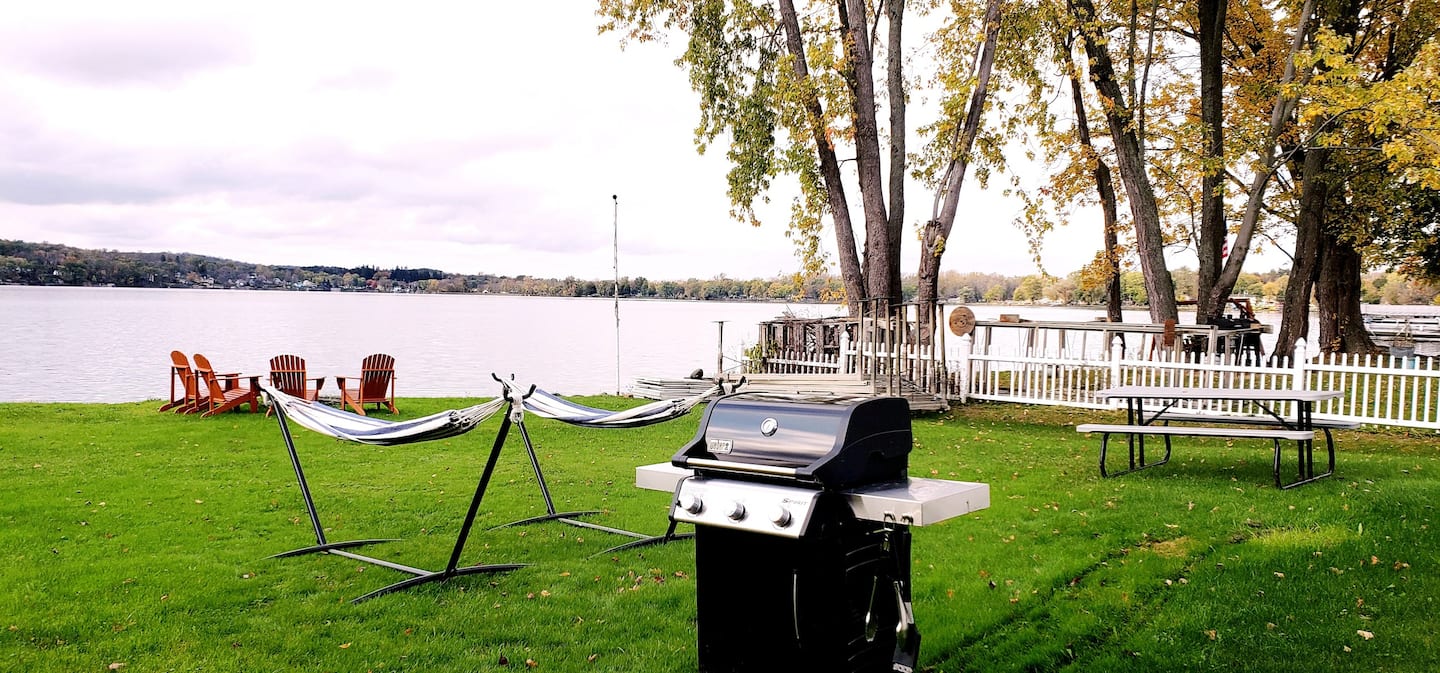 Honeoye Haven
Newly remodeled cottage that feels like you're in the Florida Keys. This cozy ranch gives the intimate feel of home immediately upon arrival. Built with the thought of comfort and privacy to provide guests with their ideal vacation. Screened in porch facing the lake, fire pit, large lawn for games and grilling. Boat marina just a five-minute walk down the road! Honeoye Haven is a place you'll come back to!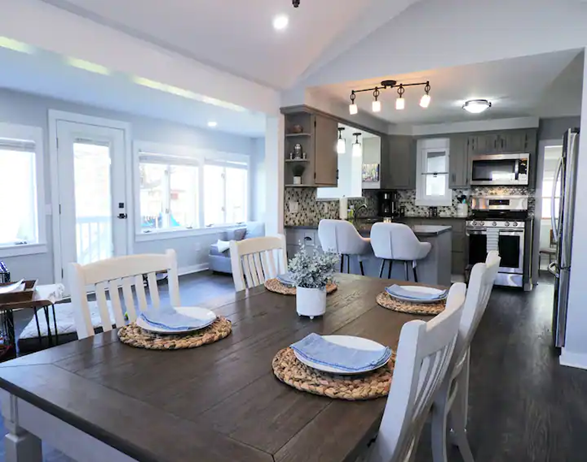 THE GARRISON ON HONEOYE LAKE
Enjoy this newly remodeled lake house for your long deserved vacation. This relaxing ranch allows you to walk ground level from your vehicle to the beautiful scenic home.
Upon your arrival, you are welcomed with all of the amenities you can think of. We bring your home to the lake! Fresh clean linens, coffee, soaps, shampoos, firewood, games and more! So bring the whole family and enjoy a great swim, a roaring fire and some amazing views. Life is better by the lake!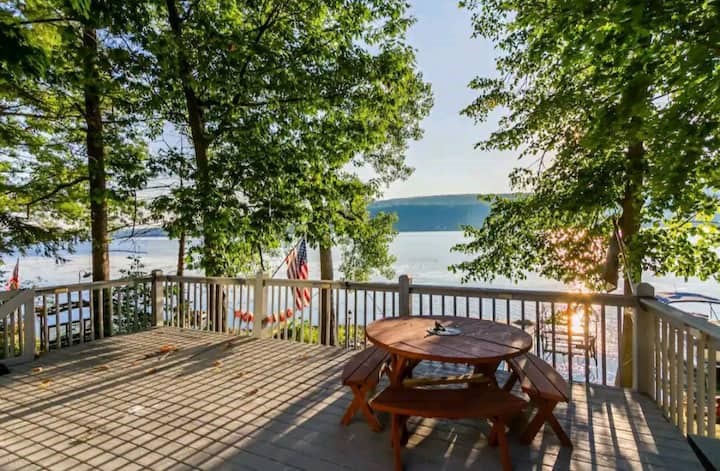 Margaritaville Way
Welcome to our scenic lake home in the heart of the Finger lakes! With an open living and dining area complimented by a spacious deck overlooking Honeoye Lake. Fire pit with wood, kayaks, grill, and games! This home is the ultimate weekend getaway or weeklong summer retreat! Enjoy the beautiful sun and have a wonderful vacation at Margaritaville Way!
CANANDAIGUIA LAKE RENTALS
Welcome to Tranquility Cottage! Kick back & relax in this stylish, new all-season lakefront retreat directly on Canandaigua Lake with 50' of level waterfront.
Whether your idea of the perfect vacation is fishing off the dock, kayaking, or sunbathing/reading on the deck, your happy place exists here. Hike Grimes Glen & eat grape pie in Naples, ski Bristol Mountain, & taste local wines. All there is left to do is unwind and enjoy the million-dollar lake views, jaw-dropping sunsets & starry nights!
CANANDAIGUIA LAKE CONDO RENTALS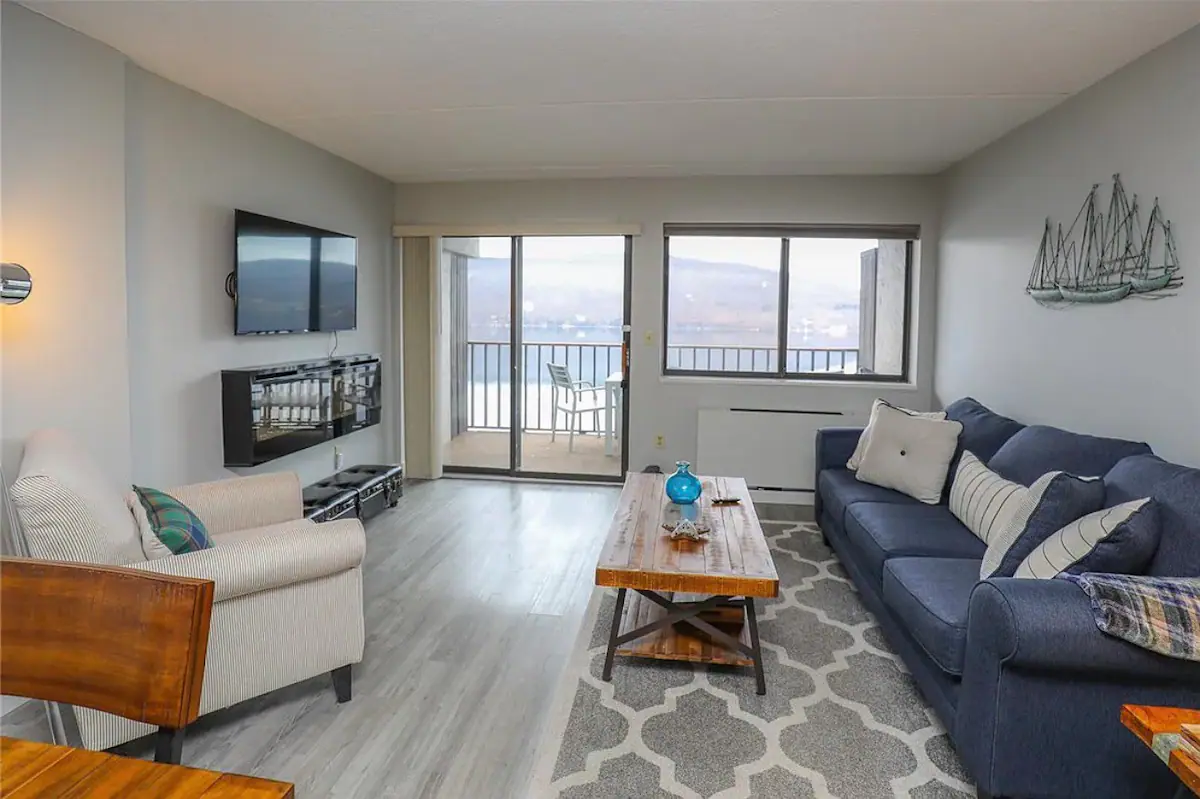 FLX LAKE LIFE
Welcome to our beautiful waterfront condo vacation rental! Located right on the shores of a crystal-clear lake, this condo offers breathtaking views and a relaxing atmosphere that will make your vacation truly unforgettable.
As soon as you step inside, you'll be greeted by a spacious living area with comfortable seating and large windows that let in plenty of natural light. The fully equipped kitchen has everything you need to enjoy your favorite meals overlooking beautiful Canandaigua Lake!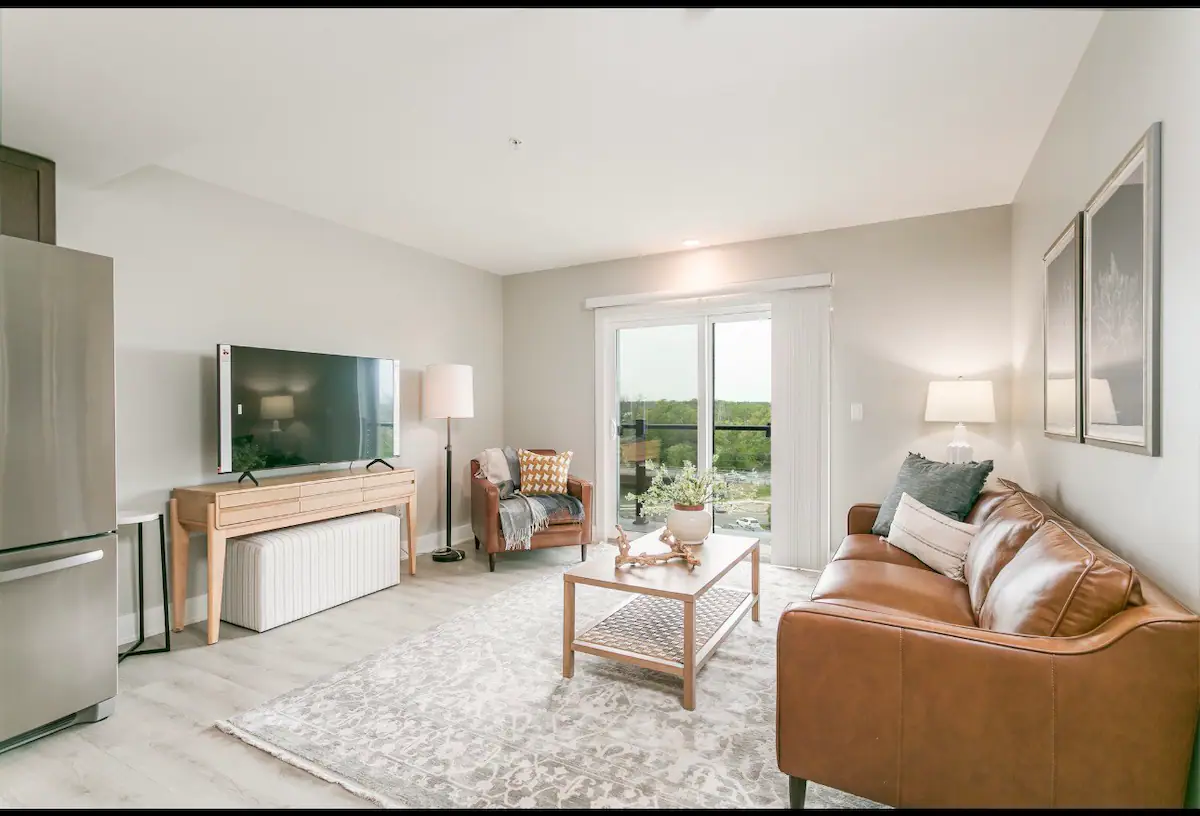 LUXURY VACATION CONDO #418
Welcome to our breathtaking condo nestled along the serene shores of Canandaigua Lake. This idyllic retreat offers a perfect blend of tranquility, modern comforts, and natural beauty, providing you with an unforgettable vacation. With its prime location on the lake and a myriad of amenities, this condo offers the perfect blend of relaxation and adventure. Whether you're seeking a romantic getaway or a solo retreat, this picturesque oasis promises an unforgettable vacation experience.
Discover the epitome of serenity and sophistication with our exquisite 2 bedroom condo nestled on the tranquil shores of Canandaigua Lake. This stunning residence offers a harmonious blend of natural beauty and modern elegance, creating the perfect retreat for those seeking an exceptional lifestyle. Embrace the tranquility of lakeside living and elevate your lifestyle to new heights. Don't miss the chance to stay at a slice of paradise where every day feels like vacation!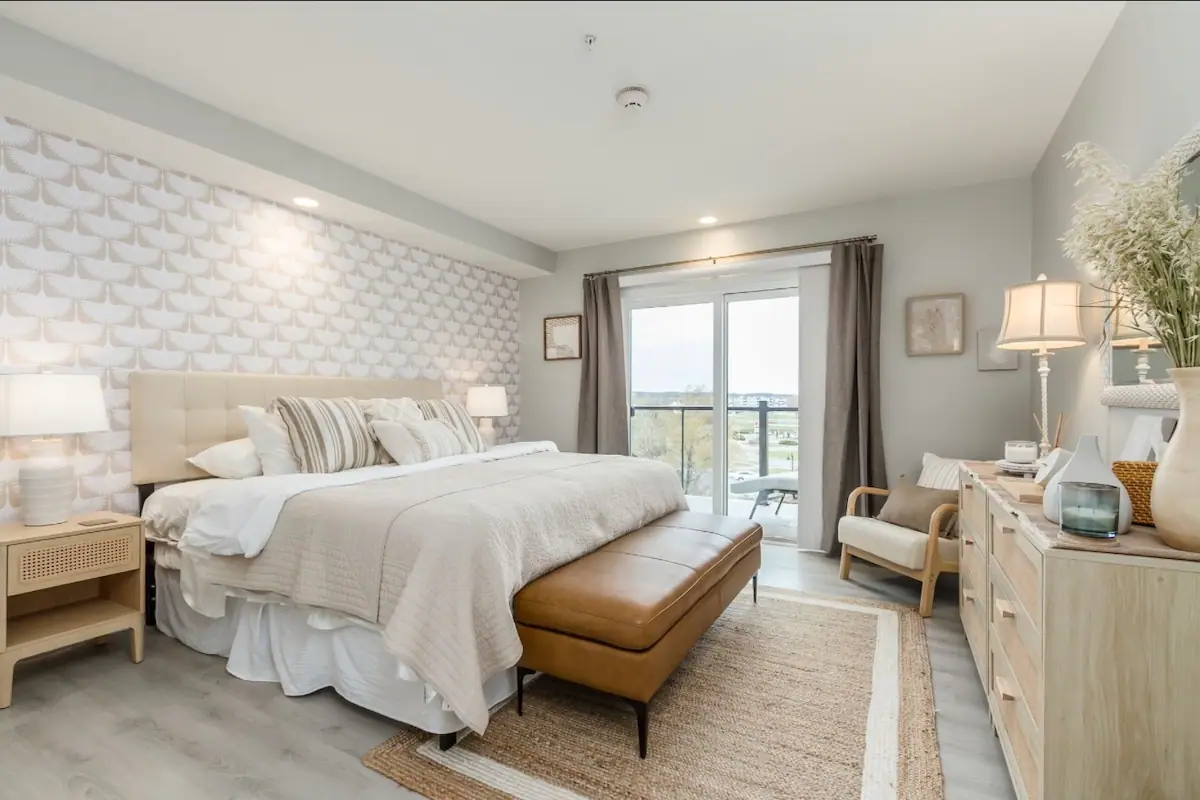 Welcome Home LUXURY condo #420
Renting this 2-bedroom condo on the lake is not just about securing a place to enjoy a vacation; it's about embracing a lifestyle that seamlessly integrates modern comforts with the tranquility of nature. From the well-appointed interior to the breathtaking views, every aspect of this lakeside retreat is crafted to provide a haven of relaxation and inspiration. It's more than a home; it's a retreat where the beauty of the lake becomes an integral part of your everyday life.
Florida Rentals
We are currently offering rental opportunities in Stewart, Florida!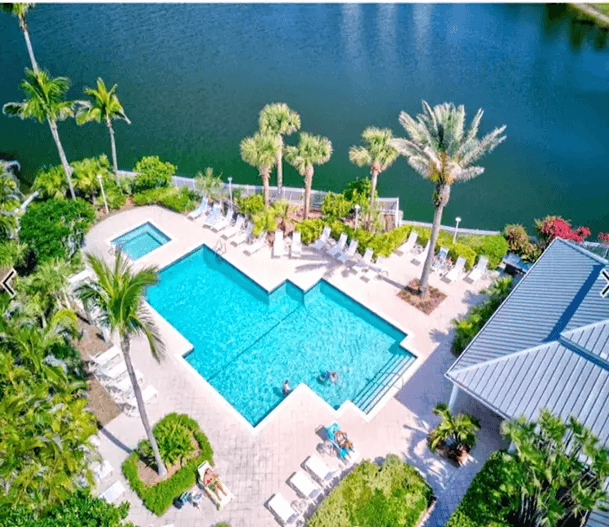 BAYVIEW CONDO OF STEWART, FL
Relaxing Bayview condo available to rent. With 2 bedrooms, 2 1/2 bathrooms and amazing views! Enjoy everything from lanai pool, workout room on same first floor to wonderful local restaurants! This unique condo is the perfect vacation for a couple or small family to get away
for a month or even longer!