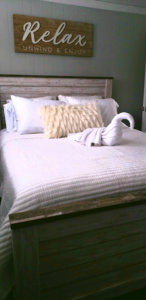 List your property with us!
We are honored to help you get started! Our company was created to alleviate any of your concerns and make this journey an enjoyable one. With over a decade of experience in this industry, we are readily available at all hours for any concerns from you or your guests. Our team offers services from revenue management, marketing, housekeeping, and more. When working with Kith and Kin Guest Services, you have the satisfaction of knowing your home is in the right hands.
Maximizing your revenue
With multiple booking websites as well as our own, we are available to respond to any inquiries from potential guests. We pride ourselves on the timely responses and ability to negotiate pricing. To properly market your home, we collect an array of professional photos as well as aerial photography of your property. All information and images will stay current to properly promote your home.
Pricing and Profits
We have many strategies for your success, a top one being hotel style pricing. Weekly rates are adjusted according to the season and demand. Negotiating price points is also available for loyal and well rated guests. We will regularly review your property and determine the best pricing possible.
Property Maintenance and Improvements
To ensure the safety of our guests as well as preventative maintenance, we can schedule routine checks to maintain your property (furnace, A/C, grill, fire alarms, etc.) Any repairs needed can be handled by us immediately or our network of providers.
Next Steps...
Book your next vacation or inquire to list your home!